Features
CUTTING-EDGE TECHNOLOGY

 

— High Penetration Real Time Sampling GPR

MONOSTATIC ANTENNA

 

— Better performance vs. conventional bistatic GPR

AIRBORNE & AIR-COUPLED

 

— Easy to operate, even in non-walkable terrain

PERFORMANCE 

— 45 dB increased S/N-ratio versus conventional GPR

GPR

 

— Fits all our popular low frequency SE-antennas

HANDHELD RUGGED CONTROL UNIT

 

— Included, with DGPS

WIRELESS BLUETOOTH OPERATION

 

— No cables, less ringing

LOW POWER CONSUMPTION

 

— 16 hours between charges

COMPACT AND LIGHT

 

— Complete system below 7 kg

UNPARALLELED PENETRATION

— Up to 120 m depths

LOW TRANSMITTER OUTPUT

 

— Less ringing in data

POST PROCESSING SOFTWARE

 

— Included
---
Download PDF
Real Time Sampling
The COBRA PLUG-IN GPR  uses Real Time Sampling of the radar signal. Today major manufacturers use conventional interleaved sequential sampling, giving only a down converted replica of the real signal. 
The Real Time Sampling allows for 32,000 stacks/second resulting in an amazing 45 dB increased signal-to-noise ratio.
Wireless
Wireless Bluetooth connection between GPR and control unit replaces interfering coax-cables and fragile fibre optic links. 
An Ultra Rugged Mesa PDA with embedded software is used for 
data collection. 
Data is stored in standard SEGY geophysical format. 
The complete GPR-unit plugs into a single SUBECHO Antenna, any selectable model. No need for bistatic configuration.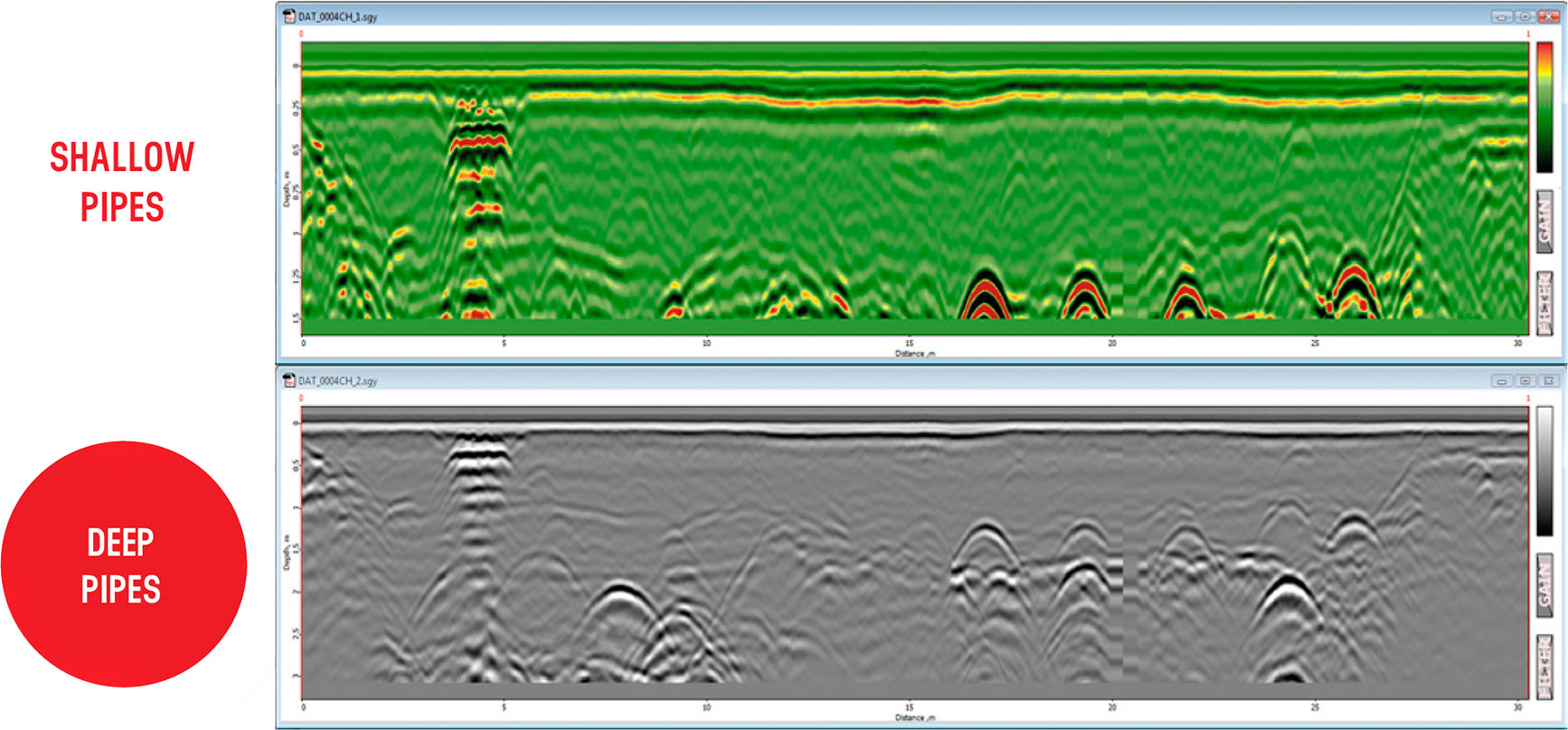 Features
WIRELESS OPERATION

 

— No need for cables

PATENT PENDING CBD ANTENNAS
CBD ANTENNA TRANSMITS TRIPLE FREQUENCIES

 

— 200, 400 and 800 MHz

ULTRA WIDE BAND PERFORMANCE

 

— 50 to 1400 MHz (1350 MHz bandwidth)

REPLACES SEVERAL CONVENTIONAL ANTENNAS
WITHOUT "DEAD ZONES" OR BLIND SPOTS
BLENDED FREQUENCY DATA

 

— Optimal frequency automatically selected for all depths

UNIQUE RELATION FREQUENCY/VELOCITY

 

— Proprietary formula

AIR COUPLED OPERATION

 

— No need for ground coupling

COMPLETE GPR SYSTEM

 

— 2 channel GPR, CBD-antennas, CU, Cart, Transport case

WIDE SELECTION OF CONTROL UNITS

 

— Rugged PC with bundled software

SMART CART

 

— Quick release wheels for push and pull operation

COMPACT AND FLEXIBLE SYSTEM

 

— Only 15 kg

POST PROCESSING SOFTWARE 

— Included with purchase

OPTIONAL REAL TIME SAMPLING
The Smart GPR
The COBRA WIRELESS GPR collects data from hundred thousands of pulse reflections each second to help researchers identify objects below ground. 
It works in a multi frequency band from 100 to 900 MHz, thus replacing 2-3 antennas with different frequencies used by other and older GPR systems.
We are here to provide your business with the best technology solutions
Whether you need assistance placing an order or just have a simple question, we're ready to help!
CONTACT A SALES REP